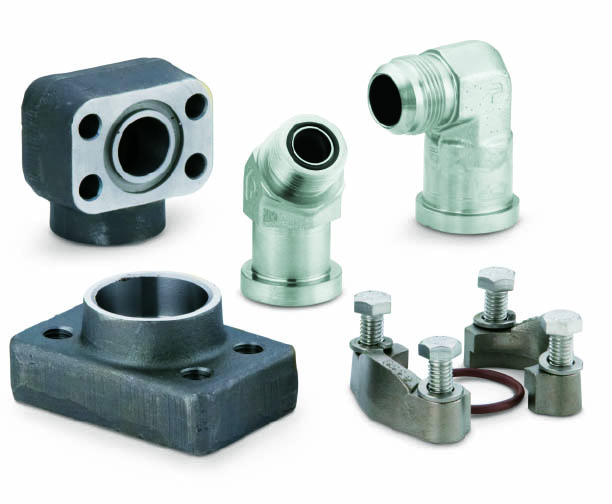 Looking for the right pipe flange in San Jose or Oakley, CA? Royal Brass Incorporated will help you find or create it yourself, so it perfectly fits your application and meets your foremost specifications. We sell all necessary flanges and flange equipment, giving you access to solutions that are tailored around your specific application.
Flange and Flare Adapters
The right flange in San Jose, CA—or flare adapter to create the right flange—can make all the difference when it comes to solving challenges in routing. We provide a wide variety of flange types and flare adapters, enabling our customers to meet the exact specifications of their different connection types.
Flange Kits
We sell flange kits that come with everything necessary for long-lasting performance and durability, regardless of the application. These kits—made by Parker, Hannifin—contain four bolts, a split flange and an O-ring. It's everything you need from an all-in-one flange kit.
Flange Halves
Our flange halves consist of a four bolt, split flange system that enables numerous end configurations. Through proper customization, these halves are able to meet your specific needs and maintain the integrity of the system they're adapted to.
High-Performance Flange Systems (HPF)
Need a more complete solution to your flange demands? Our high-performance flange systems (designed by Parker Hannifin) are designed for high-pressure installations across all types of tube connections. These systems are a smart alternative to welded connections, soft-sealing on both sides to become gas-tight and extremely reliable.
Full Flange Systems
Full pipe flange systems are designed for Code 61 and Code 62 connections, allowing the flange to be attached to a hose after the fitting is properly crimped. It's a smart, simple, reliable way to make installation quicker and more reliable for the long-term.
Find the Right Flange
When it comes to flanges, Royal Brass Incorporated is your complete products provider. Contact us today at 408-297-6642 to get the flange parts you need, regardless of the application, material or size. We source only the best flanges, regulators, O-rings, adapters, and more, and make sure you're getting them at a great price.