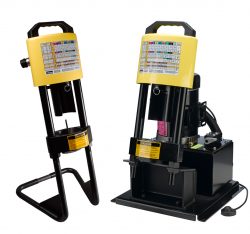 If your business performs its own in-house crimping and hose customizations, Royal Brass Incorporated is ready to supply you with any and all equipment you may need—from the hoses themselves to your newest crimper in San Jose and Oakley, CA. We carry top-of-the-line products in all types of variations, ensuring our supply meets your demands. Approach your next crimping customization with the confidence that comes from using our products.
Portable Crimpers
A portable hose crimper in San Jose, CA is essential for any jobsite where immediate fabrications are made and exact specifications are required. We provide portable crimp tools for all different types of hoses and applications, whether you're repairing pneumatic applications or providing turnkey hoses for a hydraulic operation. Our crimp tools are easy to use and reliable in their function, ensuring accurate crimping and customization on-demand.
Bench Mounted Crimpers
Need more powerful crimping options? A bench-mounted crimper is the way to go. Our bench-mounted crimpers offer powerful hose crimping capabilities, ensuring industrial hoses can get the customization they need to serve their intended purpose. Whether you fabricate for customers or perform in-house crimping as a service, we offer the bench-mount units to get the job done.
Cut-Off Machines
Make cutting your crimped hoses easy with a cut-off machine. We retail several varieties designed to offer you the cutting capabilities you need to cut hoses of all different materials and sizes.
Make Hose Crimping Easy
Having the right tool for the job makes all the difference. Let Royal Brass Incorporated ensure you have the right tools for your hose crimping job—whether you're crimping hydraulic hoses or hoses for other liquid material. Reach us today to inquire about our complete selection of crimping tools by calling 408-297-6642. We'll be happy to assess your needs and point you in the right direction when it comes to hose crimpers, bench-mounted units, cut-off machines, PFA and PTFE products, quick couplings, and other tools needed to get the job done right.