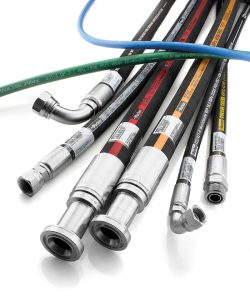 Regardless of the type of hose in San Jose or Oakley, CA, Royal Brass Incorporated has what you're looking for. Our selection spans hoses of all types of materials, ranging from 1/2" to 5" options, suitable for a huge range of applications based on your industry. We'll be happy to consult with you about your needs and can match specifications you bring us to the right type of hose, ensuring you're always getting exactly what you need.
Types of Hoses
Our broad selection of hoses in San Jose, CA spans just about any application you may have in mind. We bring you hoses capable of standing up to conditions and regulations across all types of industries, made with a broad scope of products that ensures their reliability at all times. Consult with our staff regarding any of the following applications and let us point you in the right direction for hoses:
Air hose
Chemical hose
Constant working pressure hose
Coolant hose
Discharge hose
Food grade hose
Fuel hose
High pressure hose
Hydraulic hose
Oil hose
Pneumatic hose
Propane hose
PTFE hose
Push-Lok and push-on hoses
Specialty hose
Steam hose
Suction hose
Transfer hose
Water blast hose
Water hose
Media
Depending on the type of media your hose will be handling, it's paramount to choose the right material. Our selection of hoses spans all types of media handling requirements, giving you the ability to get everything you need, all in one place. Come to us for hoses to handle:
Abrasives
Chemical Fluids
Food and Beverages
Fuels
Gases
Hydraulic Fluids
Medical Fluids
Oil/Petroleum
Pharmaceutical Fluids
Pneumatic Media
Steam
Water
Get the Right Hose
Royal Brass Incorporated has a wide selection of hose products in varying materials and diameters, suited for whatever need you may have. Consult with our experienced team today—we'll provide pricing information based on order quantities and make sure you're getting the right hose, fittings, gauges, or tubing for the job. Reach us today at 408-297-6642.