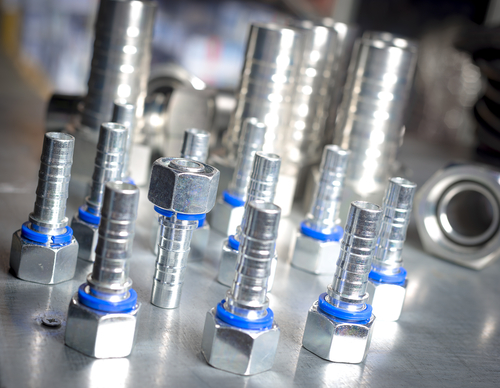 Quick couplings are a simple, instant solution to creating a connection that works. Whether it's connecting your air tools to a compressor or linking a supplementary system to your main hydraulic function, a simple quick couple in San Jose and Oakley, CA is the way to do it. At Royal Brass Incorporated, we make sure you have the right brass coupling for an instant attachment. Let us make your connections easy and reliable by providing you with the right coupling components.
Application
Regardless of the application for your quick coupling, our inventory has the right part for the job. Count on us to supply you with couplings that maintain their integrity at up to 10,000psi working pressure! Whether you've got a pneumatic or hydraulic application, let us know the specs of the coupling you're looking for and we'll make sure you get it.
Hydraulic couplings
Pneumatic couplings
Quick couplings accessories
Material
Our range of Parker products includes all types of metal components—specifically steel and brass couplings in San Jose, CA. If you're looking for a particular material to hold up on your jobsite or under specific duress, consult with our staff about the right material for the job. Our selection of coupling materials includes all of the following:
Aluminum
Brass
Stainless steel
Steel
Thermoplastic
Zinc plated
What Type of Coupling do You Need?
From hydraulic to pneumatic couplings, regardless of the material or final application, Royal Brass Incorporated is your destination for reliable products from some of the best name brands. Stop on in to one of our convenient locations and let us introduce you to our full stock of quick couplings, helping you narrow it down to exactly what you need.
Looking for something in particular? Give us a call today at 408-297-6642 for more information about the brass couplings, hose tools, valves, and tube fabrication equipment that we carry.