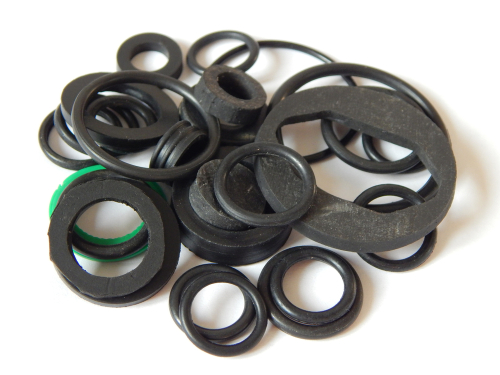 The effectiveness of your hydraulic or pneumatic application depends entirely on how well it's sealed. Though it may be simple, an O-ring in San Jose and Oakley, CA makes all the difference. At Royal Brass Incorporated, we sell a complete range of O-ring products, compatible with oils and gases, hydraulic oil and fuels, as well as other fluids. Our mission is to ensure a proper seal for your equipment, so you can rely on its functionality and effectiveness.
Our stock of rubber O-rings dwarfs anything you'll find at other industrial supply stores, because we have an inventory backed by Parker Hannifin products. We leverage their entire scope of O-ring styles and variations to ensure you're getting a tailored solution.
Types of Products
O-rings vary across different applications and take many different forms, meaning your equipment likely has extremely specific O-ring requirements to ensure a proper seal. Regardless of the specifications of your O-ring, we've got exactly what you're looking for, in stock. From fastener seals to flange seals and everything in between, rely on us to get you the right component:
Back-up rings
Buffer seals
Custom seals
Extruded profiles and seals
Fastener seals
Flange seals
O-rings and O-ring accessories
Piston, rod and wiper seals
Rod seals
Rotary seals
Valve seals
Wear rings and guiding tape
Wipers
Materials
Depending on the media being handled or the pressure of your closed system, your need for a reliable O-ring seal may span different materials. From silicone composite materials to rubber O-rings in San Jose, CA, let us make sure you have O-rings in the right material:
Acrylonitrile-Butadiene Nitrile (NBR, XNBR)
Ethylene Acrylate (AEM)
Ethylene Propylene Rubber (EPM, EPR, EPDM)
Fluorocarbon (FKM, FPM)
Fluorosilicone (FVMQ)
Hydrogenated Nitrile (HNBR, HSN)
Nitrile-Butadiene (NBR)
Perfluoro elastomer (FFKM)
Polyacrylate (ACM)
Polychloroprene Rubber (Neoprene, CR)
Polytetrafluoroethylene (PTFE)
Polyurethane (TPU)
Silicone (VMQ, PVMQ)
Ultra-high molecular weight Polyethylene (UHMW-PE)
Get the Right O-Ring
Regardless of the size of the O-ring you need, the proper material for your application or the application itself, Royal Brass Incorporated has a broad selection of products for you to choose from. Let us help you select the right product from our extensive stock and make sure it serves you well. Visit any of our convenient locations today or give us a call at 408-297-6642 for more information about our complete O-ring, adapter, crimper, and PFA product inventory.